Regular price
Sale price
$13.00 USD
Unit price
per
Sale
Sold out
Looking to add a cute piece to your collection? Check out the CONDAXOXO Crystal Bar for our Purple Striped Agate Bracelets! This is the perfect choice to "Stand Out!"! Made with high-quality gemstones carefully selected for their unique properties, this bracelet is designed to promote emotional balance and stability, helping you find inner peace and tranquility on your healing journey.
Not only is this bracelet visually stunning, but it also has a number of powerful properties that make it the perfect addition to your everyday life. Purple striped agate is believed to help soothe anxiety and promote mental clarity, making it a great choice for those who need a little extra support throughout their day.
Wear this beautiful bracelet as a reminder of your strength and resilience, and let the healing power of purple striped agate help guide you on your journey to inner peace. Shop the CONDAXOXO Co Crystal Bar now and experience the beauty and power of this incredible gemstone for yourself!
About

Purple Striped Agate is good for physical, emotional, and intellectual balance. It soothes and provides confidence and strength. This beautiful stone improves concentration, strengthens mental abilities and the connection to ones memories. Purple Striped Agate offers Protection against negative energies, disasters and nightmares. The hidden truth will come to light as your intuition strengthens, mind clears and you gain new insights.

*Crystals are not for replacing Medical treatment. Please seek a licensed Health care professional for medical questions and advice.
Details

Listing is for

ONE

Bracelet 

Handmade
6mm-12mm Round Crystal Beads
Wrist Size Approximately 7.5"
High Quality Elastic Stretch Cord for flexible wear 
100% Natural- each bead is different & unique 
Bead colors may vary from the picture 

Crystal Bracelets are intuitively chosen

*Colors on screen may vary depending on monitor
CONDAXOXO Co. Products

Our Beautiful selection of Crystal Bracelets are handmade and come on a stretch cord for flexible wear.

All of our crystals are smoke cleansed and packaged with herbs for Cleansing & Charging.
Crystal Disclaimer
Share
CONTACT US
CRYSTAL DISCLAIMER
View full details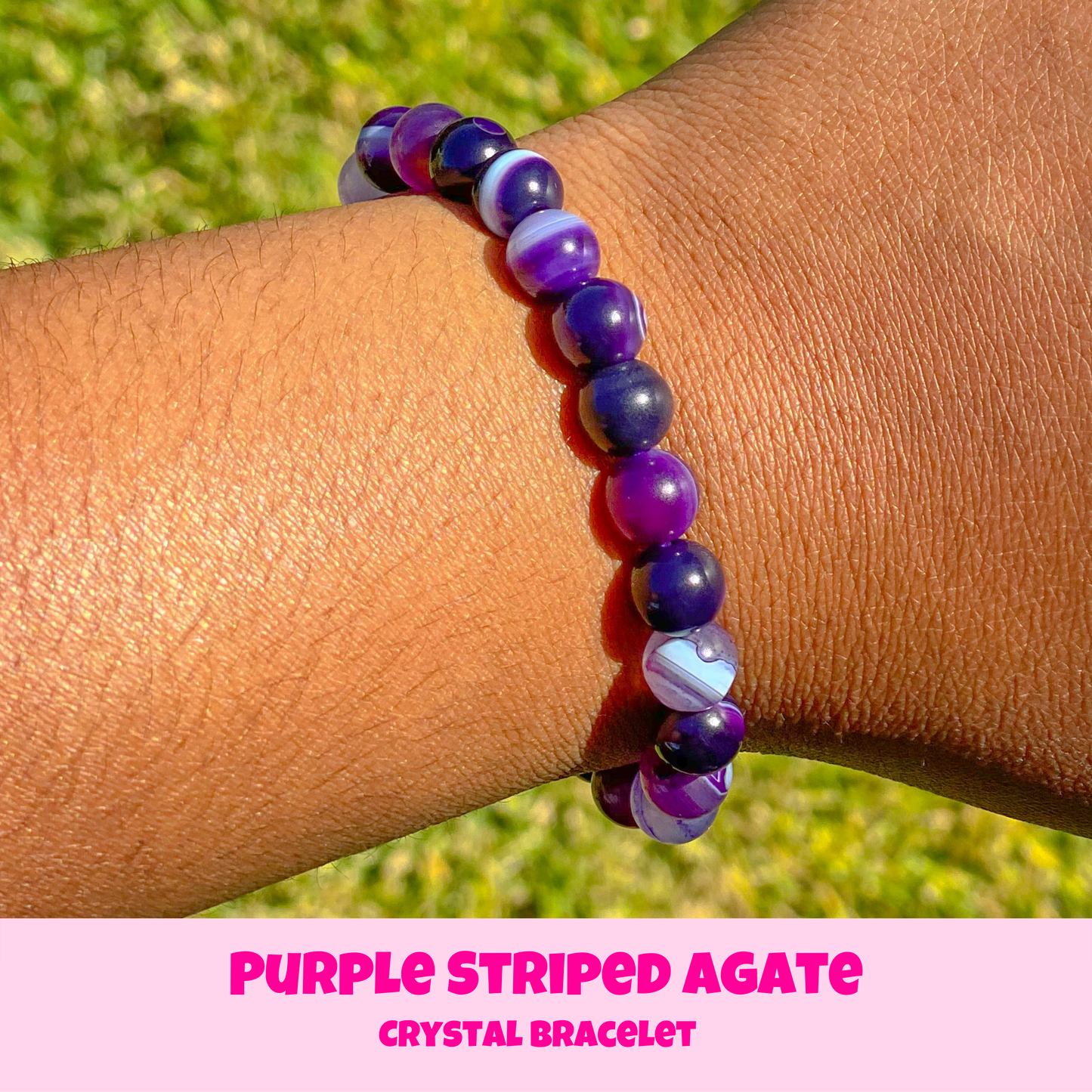 Contact Us
Crystal Disclaimer- Important Information